An organisational structure dedicated to service and performance
Monnoyeur's activities are structured around four major business lines:
Services and distribution
Rental services
Digitalisation services
Specialized services
Each of our business lines is handled by our subsidiaries, which carry out the distribution and rental of construction and handling equipment, and capital goods and the digitalisation of equipment and processes. They work on a daily basis to develop tailored solutions that meet customers' needs as closely as possible and provide services (advice, support, proximity, quality, etc.) to all of our customers in construction and public works, energy, industry and agriculture.
In the field, our teams work to improve our customers' activities and technical and economic performance, and are at their side to meet the dual challenge of environmental protection and the digital revolution.
Thanks to this unwavering support, we have naturally built a strong relationship of trust with prestigious partners such as Caterpillar, John Deere, Mitsubishi, Trimble and Autodesk. We are the historic, and sometimes exclusive distributor in certain countries, of their equipment.
Our leading subsidiaries in the market include:
Energy and motorisation services and solutions
Services and distribution of agricultural machinery
Services and rental of handling
Aprolis specialises in the sale and short and long-term rental of handling machinery, associated services and technological and connected solutions to companies worldwide. Aprolis, an exclusive distributor for the Cat® and Crown brands, and a partner to numerous brands that are leaders in their sectors, offers a comprehensive range of solutions to its logistics, industry, automotive industry, multimodal, airport and automation customers (SMEs, SMIs, large groups). Its after-sales department ensures the management of equipment and its full conformity with the support of safety experts. Its planning centres organise the interventions and its operational departments provide spare parts, technical expertise and training.
Services and rental of construction machinery
Bergerat RENT is an expert in the rental of construction site machinery and can meet all professional requirements. The company provides flexible solutions for the short- and long-term rental of machinery and other equipment for use in all sectors of operations: construction, mines and quarries, roads, industry, miscellaneous networks, landscaping…
Bergerat RENT has 10 branches that cover the whole of France and Belgium, specializing in machinery weighing over 15 tons. These are backed up by network of partners that handle smaller machinery.
Bergerat RENT is a subsidiary of Bergerat Monnoyeur, sole agent in France for Caterpillar since 1929.
With a commitment to eco-responsibility, Bergerat RENT optimizes the management and productivity of machinery for its clients. By 2025, the aim is to have become the leader in managing on-site machinery for all those involved in construction, industry and the environment.
More information on bergerat-rent.com
Monnoyeur has created ARKANCE to support its construction customers (earthworking, infrastructure, building or civil engineering, in mines and quarries) and industry customers. It aims to help them understand the changes brought about by the emergence of new technologies on construction sites and in design offices, alongside infrastructure managers. In the coming years, players that are able to transform to face the challenges of digitalisation will be leaders in their fields.
CHRONO Flex is the French leader in the emergency repair and maintenance of hydraulic hoses on all brands of machinery. More than 300 qualified technicians, specialised in on-site repair, are located across the whole of France. Chronoflex is also seeking to expand internationally.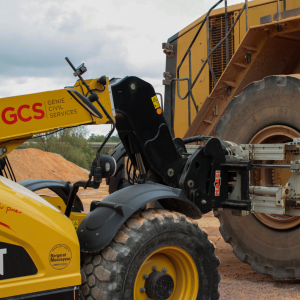 Génie Civil Services (GCS) is the French leader in the sale and rental of off the road tyres. The company also develops technical solutions such as the remote monitoring of tyre pressures to optimise their longevity and reduce the consumption of machines.